You want your wedding day to be perfect. From your dress to the flowers to the venue, everything should be exactly right.
But are you giving that much attention to your photo booth options as well?
Your photo booth can have a huge outcome on your wedding day! While it's the photographer's responsibility to capture beautiful moments of you walking down the aisle, your first dance, and everything else, your photo booth offers your guests a fun, unique opportunity to express themselves in exciting, memorable ways!
Use this blog to help explore your options! Skip to the section that's most helpful for you:
Part 1: How to Pick the Perfect Photo Booth Backdrop and Design
Part 2: 5 Awesome Wedding Photo Booth Backdrop Ideas
Part 3: Photo Booth Options Without Backdrops
Part 4: Choose A Great Photo Booth And Backdrop
How to Pick the Perfect Photo Booth Backdrop and Design: Start With Why?
Before digging into your photo booth backdrop options, ask yourself why you want a photo booth in the first place.
These questions can help you get started:
Do you simply want it for the experience?
Do you want it as a secondary option to a photographer?
Do you want one because you want your wedding to be more elegant?
Do you simply want a photo booth because you saw one at your friend's wedding and had a great time?
The answer to Why? will help you determine two things:
The type of photo booth you should choose (check out our photo booth options to learn more)
What your photo booth should look like
In many cases, what your photo booth looks like is as important as the photo booth itself.
Your photo booth can be customized to blend in with the rest of the decor—which will help create consistency in all of your wedding day photos.
But your photo booth can also provide a stark contrast to the rest of your theme, helping it to stand out and draw more attention from your guests (which may result in more people trying it out).
With that out of the way, let's talk about the best wedding photo booth backdrop ideas!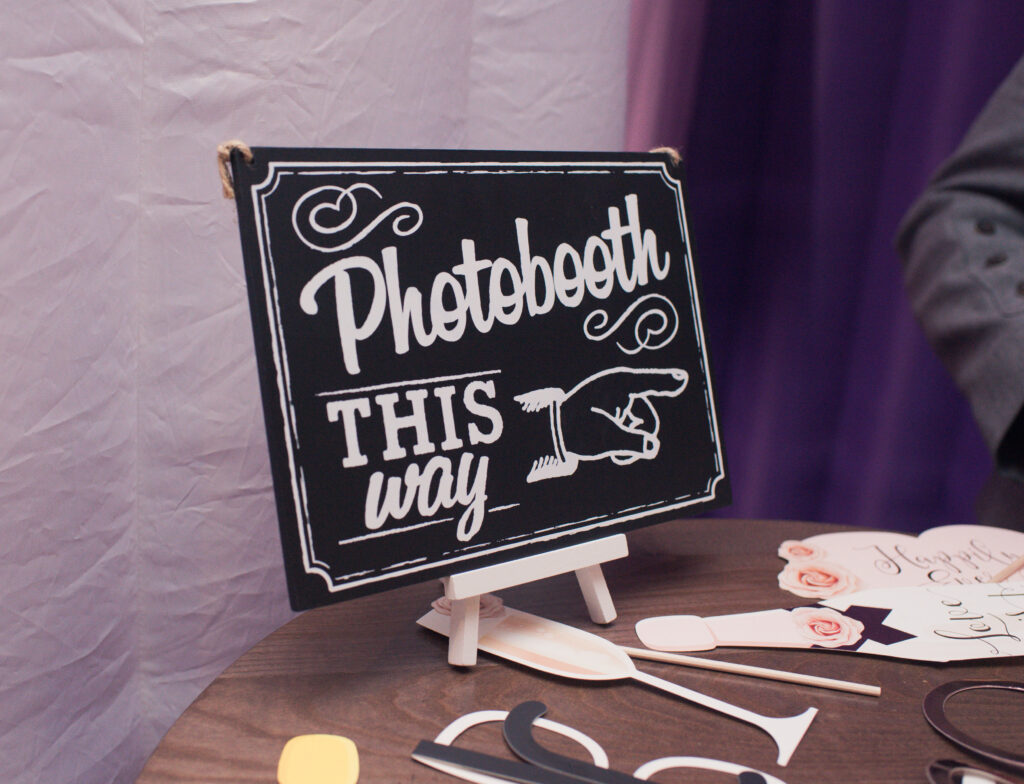 5 Awesome Wedding Photo Booth Backdrop Ideas
If you're booking a photo booth for your wedding, consider these backdrop concepts:
1. Hedge Walls
Because there are so many pieces involved, hedge walls generally take longer to set up compared to your typical backdrops.
But they sure are beautiful! Hedge walls add an elegant layer of foliage to your big day, and you can customize them even further with LED neon lights with your name written out!
2. Premium Backdrops
You have countless options when it comes to premium backdrops. You can choose everything from picturesque landscapes to awesome designs—and our tension frames ensure the backdrop remains taut and free of wrinkles or creases.
That nearly guarantees a perfect backdrop on every take, especially when combined with our high-powered ring lights. No matter where you place your photo booth at your reception, we can provide enough lighting for your guests and your premium backdrop.
3. Curtains
While you can certainly choose fabric curtains as a backdrop, we love seeing beautiful, sequin-based curtains. These are often sparkly and eye-catching, and they create a dazzling effect in the background of your photos.
Flat matte fabric curtains tend to be a safe choice across all venue options, while sequin curtains are generally a better fit for more ornate venues.
4. AI-Based Backgrounds
We can work with you to develop AI backgrounds for our 360 booths and others!
With our AI option, we create and add a backdrop that is completely computer-generated and perfectly fits your theme.
Here's an example of a winter/holiday-themed backdrop:
One of our all-time favorites, though, was with one of our clients who was a huge fan of Friends, the popular TV sitcom. We created a background where it looked like their guests were sitting on the couch in the show's coffee shop, Central Perk!
5. DIY Concepts
Over the years, we've seen a ton of really cool homemade backdrops with beautiful curtains, lights, and other accessories.
The problem, though, is each backdrop needs to correspond with the photo booth's camera lens. In most cases, you have a small window of space where the backdrop can be properly positioned.
With that in mind, reach out to us if you're considering a DIY option. We can work with you to develop your backdrop so it has the perfect dimensions and so it looks great on camera!
Photo Booths Options Without Backdrops
Another possibility: Having no backdrop. A couple of options make that possible:
A Selfie Station
With a selfie station, your backdrop is whatever's behind you while you're getting pictures taken.
We see this more commonly with couples who celebrate their marriage in really beautiful, romantic, or rustic venues—where a simple wall of the venue can serve as a suitable backdrop.
But we also see the alternative: Sometimes people place the selfie station against the wall, and the reception itself serves as the backdrop.
While this can be extremely cost-effective, the output is different. When you have less control over the backdrop, you also have less control over the final product—the photos the station produces.
360 Booths
Another great option that doesn't have a traditional backdrop is the exciting 360 Photo Booth. In a 360 booth, your guests stand (or dance!) on a platform while a video camera swirls around them.
These turn into fun and beautiful videos and GIFs—but they'll capture a 360-degree view of your surroundings, so they often capture the walls, the dance floor, and the guests at your reception.
Remember, though: You can still opt to have an AI background!
Roaming Photo Booths
Our roaming selfie station photo booths are handheld photo booths that one of our attendants can carry throughout your wedding night and offer to capture selfies of your guests.
Because of that, many of our couples choose to simply allow the background to be whatever is behind the selfie—people on the dance floor, your cookie table, or the venue itself.
M.A.R.T.Y.
M.A.R.T.Y. is our popular autonomous photo booth intent on making friends with your guests!
He wanders through your wedding reception to take photos of your friends and family, and oftentimes the background is simply whatever's behind your guests.
Although, like we said early, an AI background is available with all of our photo booths!
Glam Booths
Our Glam Booths offer sleek, sharp imagery, and you can get away without a backdrop—especially if your venue already has great decor!
For example, we've seen great results when the glam booth is in front of a brick wall. The choice is yours!
Choose A Great Photo Booth And Backdrop: You Have Options!
You have countless options when it comes to your backdrop, and you also have numerous options when it comes to your photo booth! You can pick from:
To learn more, contact us! We'd love to talk about your photo booth and photo booth backdrop options!