What Is M.A.R.T.Y.?
M.A.R.T.Y. stands for Moxie's Auto Roaming Take it Yourself booth. M.A.R.T.Y. is a robotic selfie station that moves, dances, takes photos and GIFs, looks fabulous, and entertains by just being itself! Consider M.A.R.T.Y. as a Selfie Station and a Roaming Selfie mixed together with a face and a personality.
MARTY is controlled by one of our booth directors through a remote.. The robot and the Director roam around the venue searching for opportunities to capture memories and entertain for others, much like a mascot would. The Director not only controls the robot but also assists guests with the touchscreen, help to get guests in the right position, choose their experience, send their image to their device, etc. In our larger package, opt to have 2 Directors. One will control MARTY and hide amongst your guests while the other acts as its liaison. It truly looks like MARTY is real!
M.A.R.T.Y. LOVES TO PARTY!
Moxie is the only company to have MARTY! Our robot photo booth is one-of-a-kind. With eyes that blink and move around, along with its LED bow-tie, MARTY fits with any event. You get so much more with this booth. From dancing with your guests, to taking photos, to sending the photos directly to guests' phones. What's perfect about having the MARTY at your event is:
People see what they look like before the photo takes
Guests do not have to wait in line to use a booth, MARTY comes to them
Saves space in your venue if you need it
Guests receive their image or GIF instantly on their phone
More engaging for social distancing
Perfect for those that are immobile
Kids either love MARTY or question how real it is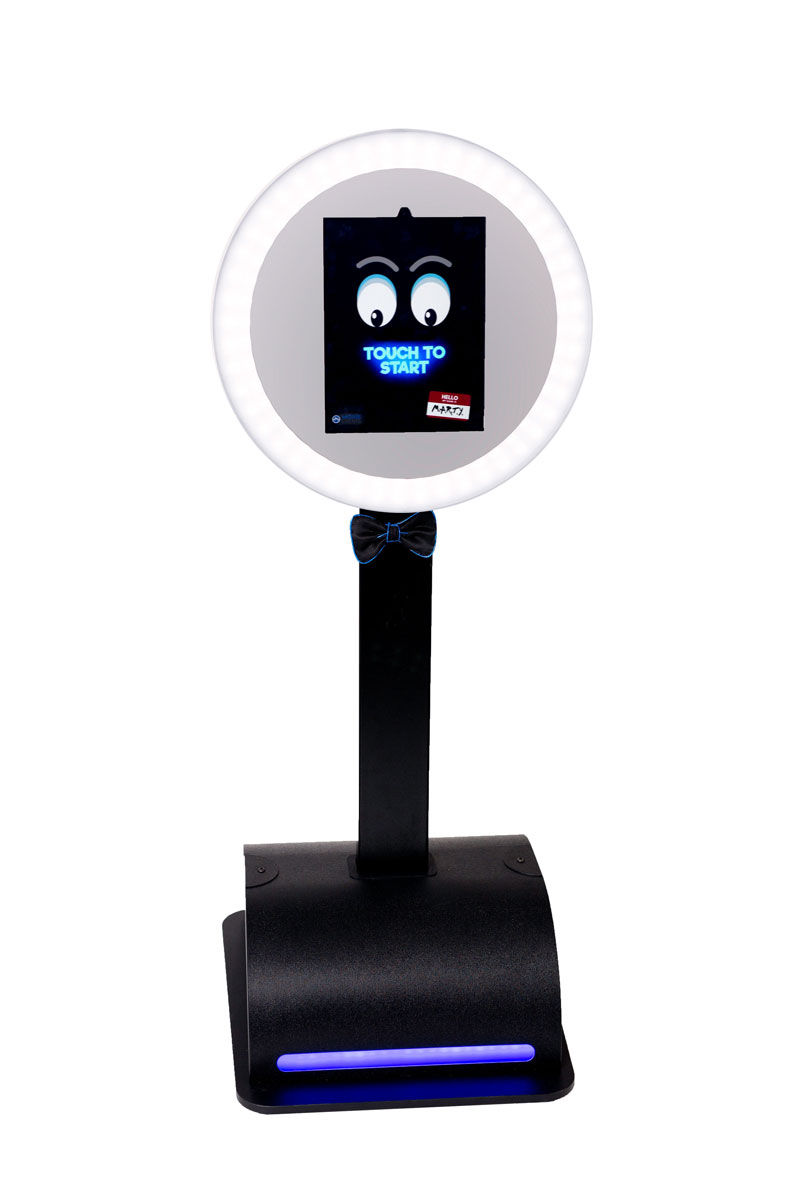 M.A.R.T.Y. is Perfect for Everybody & Event
More Than A Photo Booth!
We use MARTY as more than just a photo booth. With the Cystic Fibrosis Foundation, due to the risk of bacterial infections from one person with CF to another, the CFF only allows one person living with Cystic Fibrosis to attend their events. This is absolutely unfortunate. However, with the benefit of MARTY, we FaceTime or Video Call the CF person who is not attending the event, dress the robot to match the style of that person as if they were at the event, attach a Bluetooth speaker, and mic MARTY up so that the person "at home" can interact with the guests at the event as well as speak on stage. This has helped the Cystic Fibrosis Foundation to gain more support in their search for a cure as guests can see first hand how it affects those living with the disease.
Social Distancing Photo Booth
With the need to social distance as our "new norm", people still need entertainment in their lives. Hosting events during this time is always going to be a struggle. Thankfully, technology and innovation can help bring us closer together. Using MARTY as a means to connect and entertain, may be a factor in making the new norm seem a little more normal. Ask us about how Moxie can make an event just as exciting as with or without social distancing.
Packages